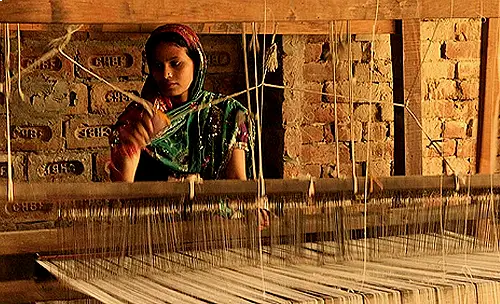 Contact/Background Information :
Name : Fatehma Bibi
Address: Khenjakura, Bankura, West Bengal. INDIA.
Age: 35 Years.
Marital Status: Married.
Children: 2
Art Experience :
From the different colors of cotton and silk to the "outstanding and very impressive" — patterns, Fatehma likes to hand weave more than anything.
Having learned to weave when she was only 12 years old from her father, she hopes the tradition will continue. She appreciates learning from other weavers and exchanging skills. Through the work, she is able to support her family and two children.
She wants people especially future generations, to know how important weaving is to their culture. "Bengal Weavers have woven incredible textiles in the past and we need to keep this tradition alive," she says.
Fatehma is extremely thankful for the chance to weave for rangamaati because she has the opportunity to work from home and Village, and no longer have to go to the city to in search of work as a laborer.
Her Dream is to Live Happily making the most of the limited resources she has with her Family.