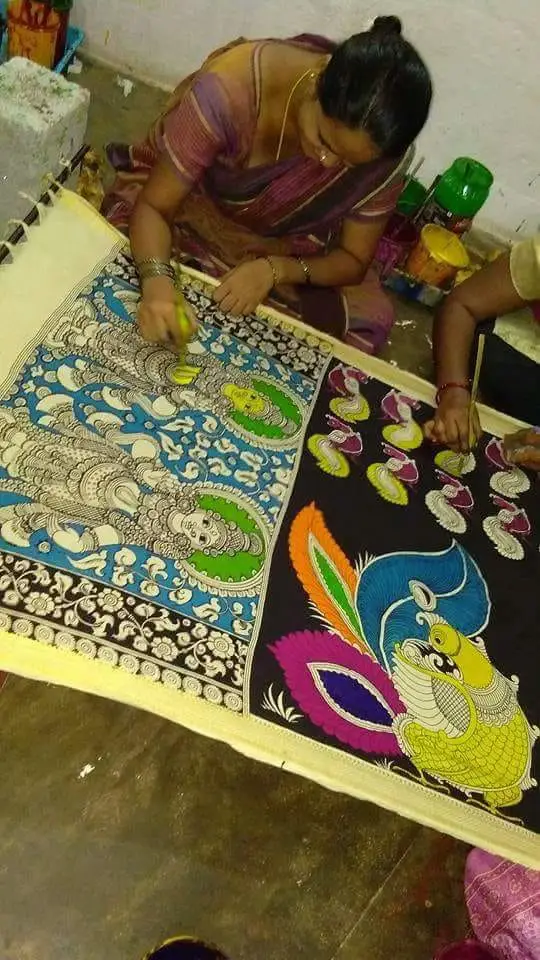 Contact/Background Information :
Name : Shelna Chandrakala.
Address: Machilipatnam , Andra Pradesh. INDIA.
Age: 51 Years.
Marital Status: Married.
Children: 3
Art Experience: Kalamkari was been traditionally practiced by men in the family and our Village, and the art form was typically dominated by them as a household occupation passed from generation to generation as heritage. However, from an early age, Shelna was attracted by the Freehand drawing and the block-printing patterns. She used to draw and color watching her father and with their inspiration, she is a self-taught Artist.
Shelna is a hardworking, 51-year-old woman who is a married woman and has three children, two boys, and one girl. Before she started working with rangamaati, Shelna used to sell her artwork at local fairs during the festive season.
She loves nothing more than hand painting Kalamkari artwork on Sarees ,Shawls and Stoles. She wishes to continue to receive stability in her job, and help to support her family to give them a better life.
Her dream is to teach the younger generation and successfully involve more women in the authentic kalamkari making process, and help them become economically independent.