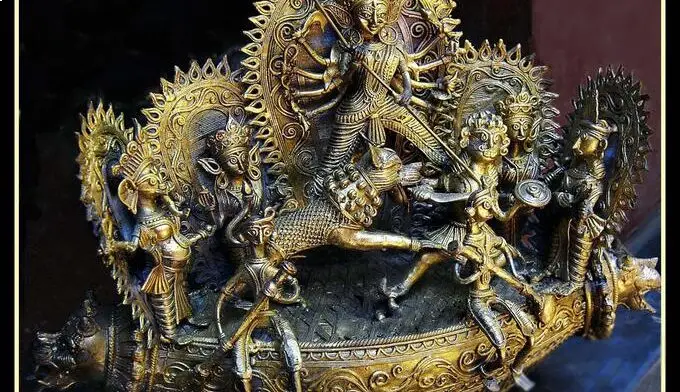 Bengal is known all over the world for its expertise in art and craft. Its skill in architectural splendors to its excellent works on woodwork, terracotta, paintings, textile run unparallel. Pottery, brass and copperware, embroidery, tapestry, hand looms, fine muslin and silk artistry, wood carving, cane works etc. are a few examples of handicrafts which originated at the ground level in the heartland of Bengal – the villages. Most of these handicraft produce are cottage industry in West Bengal and has been backbone of the rural economy of the State.
Artistic Leather Craft
The leather crafts, a fine example of contemporary art and craft in West Bengal, owe their widespread popularity and development due to some innovative work done by gifted artists at Santiniketan.
Brass & Bell Metal
Brass and Metal craft has been an old handicraft product of the State. Handed down to generations of metalworkers, their product has varied from cooking utensils to vessels for specilal occations. Artisans of Bankura, Bishnupur, Ghatal and Chandanpur in Midnapore, are engaged in engraved brass and bell metal work.
Pottery
The terracotta Bankura horse of Bengal is quite famous all over the world. Visit any village in this state and you are bound to find the kumbhakars (potters) creating items of daily use on the potter's wheel. The source of their raw material is the rich, alluvial clay found in Bengal's rivers. These are shaped and fired in simple kilns. From pots, containers, plates for food to toys and ritual figurines, the Bengal potter moulds it all.
At Kumartuli in Kolkata, some of Bengal's most innovative clay-potters fashion the images of popular gods and goddesses worshipped in the state. The high point comes when in autumn every year, idols of goddess Durga are made. Some of them are indeed exquisite works of art. Today, some renowned sculptors are also commissioned by Bengali non-resident Indians (NRIs) to produce replicas of Goddess Durga, which they carry with them all the way to the USA and England! If you look at the rich decorative terracotta panels of temples in Murshidabad, Bishnupur, and Midnapore, you will realise how much a fistful of clay means to the Bengali's artistic psyche.
Mat Making
Reed mats and baskets find a variety of uses and often on a humid summer evening, you will chance upon the madur ?mat seller carrying his ware through the winding lanes of lush villages. This mat is woven on a simple bamboo frame loom. The warp is cotton thread and the weft a thin, soft madur-reed but the designs are ignited by the weaver's imagination and often become a rare marvel. The shitalpati is another kind of mat found in Bengal, Assam and Tripura. These are woven with flat strips in check, twill or zigzag designs, sometimes incorporating stylised human and animal forms. Fans are made from palmyra leaves. The leaves are dyed in different colours and made into beautiful geometric designs. Cane baskets have traditional shapes and are made in different sizes. The people in the city use these baskets as plant holders or simply as decorative items.
Handicrafts of Bengal
Dhokra Metal Casting
The Dhokra Kamar tribes are the traditional metalsmiths of West Bengal. They follow a technique of metal casting known as Dhokra, named after the tribe. A look at these artefacts makes you believe that they have been made out of a single piece of wire wound around a piece of clay. But that is not the case. The object is cast in metal, using what is known as the lost- wax technique. The artefacts are ritual objects and their themes are mostly animals, jewellery, and icons of gods and goddesses. The Dhokras make many varieties of diyas (lamps) that are both single and multiple. Some of the lamps are mounted on elephant back.
The lost-wax technique is not confined to India only. Evidence of this kind of casting of copper based alloys has been found in China, Egypt, Malaysia, Nigeria, and some areas of Central America too.
Amongst the trinkets made by these artisans, payeri (anklets), hansuli (necklace), earrings and bangles are most abundant. Besides these, some of the knickknacks made by these artisans are the Buli (piggybank), and a ceremonial finial pot kalas, which is mounted on a wooden pole for festivals.
The Dhokra Kamar tribes are part of the same family, which includes the Malhars of Jharkhand and Sithrias of Orissa (metal craftsmen). The West Bengal metal workers, known as the Dhokras and the Dheppons inhabit the districts of Bankura, Midnapore, Purulia, Birbhum and Burdwan.
The Dhokra metal casting is perhaps the only living tradition of metal image making in Eastern India. The technique has managed to survive many centuries and change of dynasties owing to its modesty of application in everyday lives of ordinary people. Today, with the modernization setting in and the lifestyle of the tribals changing with time, the Dhokra metal craft is slowly fading away.
Cane & Bamboo
West Bengal is known for its creativity and artisans of the State specialize in creating everyday and fancy articles from bamboo and cane, is rich and varied. More than 35,000 artisans practice this craft in different districts of rural Bengal.
Fine Arts
The fine arts scene here is just as stimulating, whether you are interested in the revivalist trend pioneered by Abanindranath Tagore or the folk idiom of Jamini Roy. If you travel to Shantiniketan, Tagore's hermitage, you will be able to witness the works of Nandalal Bose and the stunning sculptures of Ramkinkar Baij that form part of the landscape. The Kalabhavan there is a good haunt for art-lovers.
Clay Dolls
The patronage for Clay Dolls by Maharaja Krishnachandra of Krishnagar in the late 18th Century has been a major factor for real-life stylized, clay Dolls originating from the State.For clay model items, Krishnanagar is the place.
Horn Work
The early pages of Indian civilization are full of descriptions of 'horn combs', which adorned the tresses of women in ancient times. In shining black and translucent shades of grays, Bengal horn work is still a fascinating craft.
Jute Products
Jute, the 'golden fiber' has traditionally been woven and knotted and braided by women of Bengal, often for domestic storage. Jute as a fabric was much popular in ancient times. Today Bengal is not only a major producer of jute goods ranging from plush jute-blended carpets, to decorative tapestries, garden pot hangings, decorative hand bags, bedspreads and more.
In 50 villages of the Kaliaganj area in West Dinajpur, the process of coloring, weaving of jute on single looms goes on, as the world outside turns once again to this wonderful natural fiber.
Shell & Conch Shell
And the Lord Krishna below upon his great conch shell 'Panchajanya' and the great enemy army trembled where they stood – so says the Mahabharata. No less sonorous and memorable is the Conch Shell craft of West Bengal, and one of the most ancient.
Sholapith
Nature has always been one better on man. Compare "Sholapith" the core of a plant (Aeschyromene Aspere) that grows wild in wet marshlands of Bengal and Assam, Orissa and Deccan and the artificial "thermocole" produced in a laboratory. In fact, in malleability, in texture, in its luster and sponginess, in its ability to turn into "light as air" beautiful ornamentation – thermocole just does not come close to "Sholapith". "Sholapith" work is every uniquely of Bengal.
Art and Crafts of Bengal.
| | | |
| --- | --- | --- |
| Sl. | Name of the Craft | Place of concentration. |
| 1. | Zari | Panchla, Jagatballavpur, Domjur of Howrah. Bishnupur –I and II and other adjacent areas of South 24 Parganas. Daspur –I & II of Midnapur district. |
| 2. | Imitation Jewellery | Jagatballavpur, Domjur of Howrah. |
| 3. | Wig | Panchla of Howrah, Ramnagar of East Midnapur. |
| 4. | Shuttle Cork | Ulubeira-I of Howrah. |
| 5. | Horn products | Baishnabchak and Dongabhanga  of East Midnapur. Dewlgram of Howrah. |
| 6. | Mat | Sabang and Ramnagar of Midnapur. |
| 7. | Conch and Sea Shell | Digha of East Midnapur, Bishnupur of Bankura, Karimpur of Nadia. |
| 8. | Terracotta | Panchmura of Bankura, Ghurni and Nabadwip of Nadia,  Matigara of Siliguri and other 36 clusters in different districts. |
| 9. | Dokra | Bikna of Bankura, Dariapur of Burdwan. |
| 10. | Wood Curving | Natungram of Burdwan, Bankura town and many other clusters. |
| 11. | Cane products. | Siliguri, Jalpagiru and Coochbehar. |
| 12. | Jute handicrafts | Sibrampur of South 24 Parganas, Behala of Kolkata, Burdwan, Nadia, Howrah, Coochbehar and many other clusters. |
| 13. | Kantha Stitch | Kolkata, Burdwan, North 24 Parganas, Birbhum etc. |
| 14. | Sola products. | Burdwan, Birbhum and Murshidabad. |
| 15. | Mask | Bagmundi of Purulia. |
| 16. | Hill handicrafts | Kalimpong and Darjeeling. |
| 17. | Sitalpati | Dewanhat, Ghegrighat of Coochbehar. |
| 18. | Bamboo crafts | Gajan of Malda, Subhasgram of Uttar Dinajpur, Usaharan of Dakshin Dinajpur. |
| 19. | Dokra | Kushmandi, Ukhalia, Balator etc. of Dakshin Dinajpur. Majlishbar of Malda. |
| 20. | Patachitra | Naya of Midnapur and Nandakumar of East Midnapur. |
| 21. | Chikon Embroidary | Babnan of Hooghly. |